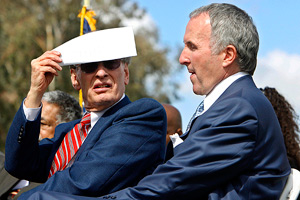 News broke last Monday that MLB Commissioner Bud Selig elected to exercise his "best interests of baseball" power by
blocking the Los Angeles Dodgers' proposed television agreement with the Fox network
. In short, Selig believes that the allegedly below market value deal would mortgage the future of the Dodgers franchise by diverting much needed funds from the team to satisfy Dodgers' owner Frank McCourt's personal debts (and help resolve his on-going divorce proceedings). Many commentators have speculated that Selig's decision will ultimately result in litigation between the Commissioner and McCourt.
For those trying to get up to speed on the quite complicated facts surrounding the Selig-McCourt dispute, Larry Behrendt of the
It's About the Money, Stupid
blog has posted an
excellent summary of McCourt's ownership of the Dodgers
.
Meanwhile, for analysis regarding the strength of McCourt's possible legal claims against Selig, be sure to check out
Michael McCann's prior article for SI.com
, as well as Sports Law Blog's
previous coverage of the McCourt saga
.
Update:
The Dodgers
announced this morning
that they have formally filed for Chapter 11 bankruptcy protection.